Join BHA or renew your membership for 2023-24!
The work of the Bonnycastle Homestead Association is to celebrate and strengthen the Bonnycastle neighborhood through a variety of initiatives that build community and connection. The BHA hosts regular social events, and spearheads initiatives that address sustainability, beauty, safety and service. The BHA also represents neighborhood initiatives and needs to local government and on the District 8 Advisory Council. It is a point of connection for neighbors, providing information on all of the above. Board meetings are held monthly and are open to all residents.
If you haven't already, it's easy to join or renew!
The BHA is funded by memberships and events. There are many ways to take part:
CLICK THE BUTTON BELOW TO RENEW OR JOIN - support all the BHA does ($10 individual/ $20 Family/ $25 business)
E-NEWSLETTER - Learn about what's happening in your neighborhood
EVENTS - From family-friendly to bourbon tasting, come and enjoy
MEETINGS - Come learn what the BHA is working on
VOLUNTEER - Helping hands are always needed
Click the button below, log in or create your free Membership Toolkit online account, then pay for your 2023-24 membership.
Why should you or your business become a member?
Support your neighborhood volunteers
Access to online directory and archived newsletters
Tree Discounts and free tree planting and/or lessons
Be the first to know about neighborhood events
Free or discounted entry to events
Need to check your membership status? Click the "Membership" tab above, then "My Account" to see if your membership is active/paid.
* * *
Enhance BHA's Canopy by Sponsoring a Tree!
BHA continues partnering with the city to plant up to 50 trees in the easements along our streets. In accordance with the city's guidelines, tree species will be selected for best long-term success with smaller, understory trees planted under electrical lines and larger, canopy trees planted where they have room to spread out. At planting, these saplings will have 2-2 1/2" thick trunks and already be quite tall.
BHA's tree committee is in the process of prioritizing where these trees will do the most good. Selection criteria include the canopy quality at the planting site as well as the owner's willingness to water the tree. If you are interested in getting a tree in front of your house, please email bonnycastlehomestead@gmail.com.
Although the city is donating the trees, each retailing for $400+, BHA must cover the cost of getting them planted. The number of trees we plant will depend on how much money we raise. Each tree will cost approximately $100 to plant. With your help I hope we can say yes to every one of these 50 trees and do it again next year!
Please give some thought to the impact 50 trees could have on our streets over the coming decades and consider making a donation below. Click here to make your donation.
$150 - Tree Hero
$100 - Canopy Champion
$50 - Arbor Advocate
Other
* * *
Cherokee Triangle/Bonnycastle Plan
As you look at this, you'll see this is an organic document. It contains about 15 items that will require continuing action from the Board and our residents
* * *
Bonnycastle Homeowners Association
Neighborhood Night
Our second Neighborhood Night will be next Wednesday May 17th, 6:30 at Shiraz Mediterranean Grill, 1565 Bardstown Road.
Hope to see you!
***
June 3 Bardstown Road Clean Up
Let's work together and tidy up Bardstown Road! This family-friendly event will start at 8:00 amSaturday June 3.
Meet at the intersection of Bonnycastle and Bardstown. We will pick up trash for an hour, then meet back up for coffee and pastries at Safai.
We will provide bags and gloves.
***
Eastern Parkway gets four-way stop to calm traffic
A new all-way stop at Eastern Parkway and Willow Avenue should calm traffic on Eastern Parkway. BHA and residents on Eastern Parkway had expressed concern about the speeding to former Councilwoman Cassie Chambers Armstrong. This will go in effect May 15.
***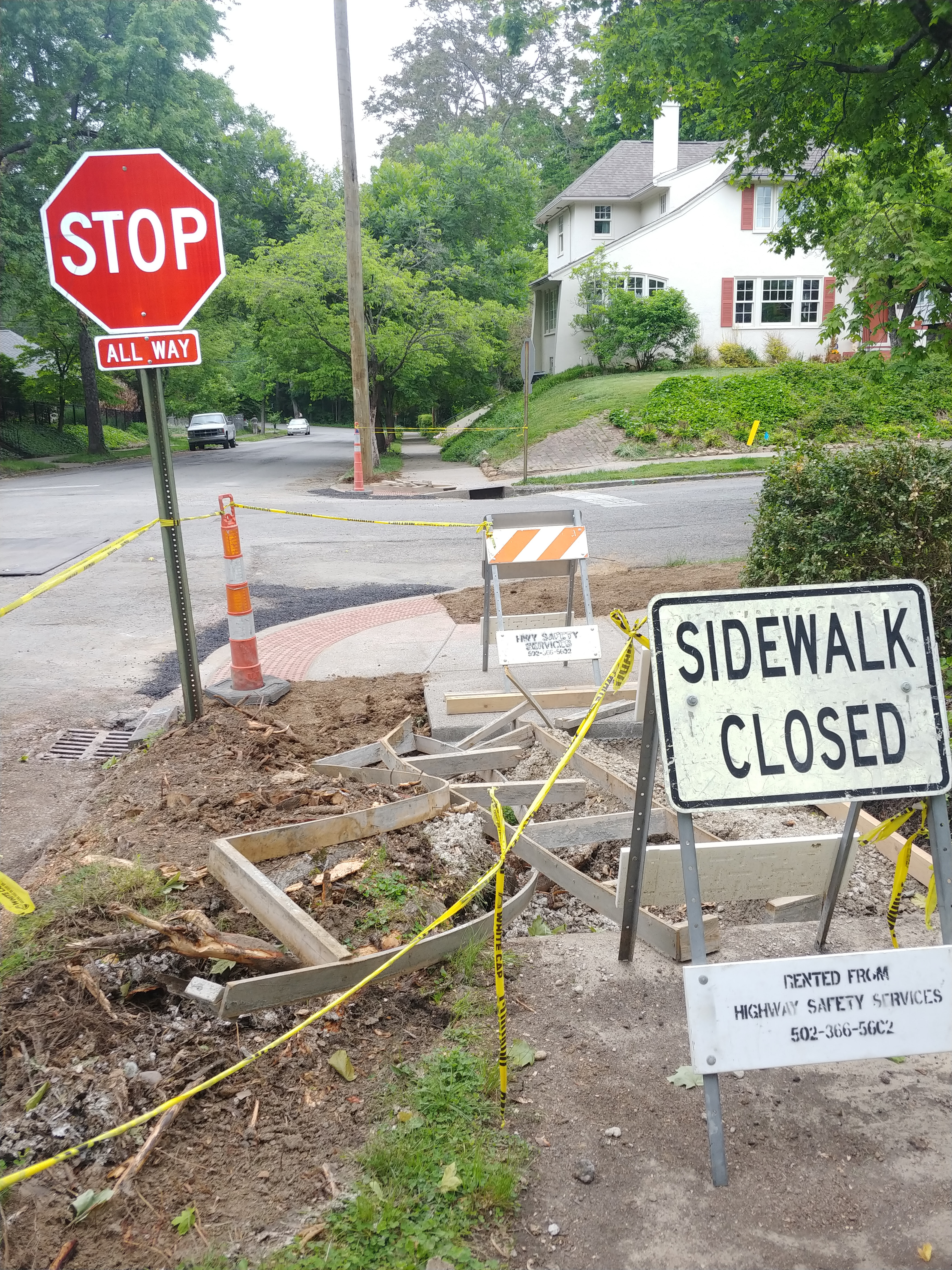 Sidewalks Improved for ADA Compliance
Metro Louisville has spent the last week making sidewalks more accessible to persons with disabilities, strollers, and wagons.
* * *
Events That May Interest You!
Every Friday 3:30-4:30 Douglass Community Center free archery lessons for youth. Check out the free classes for all ages! https://louisvilleky.gov/parks/document/parks-douglass-cc-spring-2023-schedule
Wild Lights at the Louisville Zoo. March 10-May 21 The popular lantern festival is back in a WHOLE NEW WAY! Experience unique locations from around the world as you stroll through the Zoo under the light of enormous, handcrafted, silk-covered lanterns. Don't miss the thrilling sights of the region's largest lantern festival with thousands of lanterns aglow with more than 50,000.
* * *
District 8 Advisory Council Meetings
The last Monday of each month, the District 8 Advisory Council meets at 7:00 p.m. in the Highland-Shelby Park Library.
The Advisory Council consists all of the neighborhood associations, as well as representatives of constituent groups like Highlands Community Ministries, the Library, Bellarmine, and Highlands Commerce Guild. The Advisory Council works closely with our District 8 Metro Council member on matters of particular importance to all District 8 residents and businesses.
These meetings are open to all.
* * *
METRO RCS UNVEILS ONLINE DATA DASHBOARD
User-friendly, public resource offers quick access to important information
Louisville, KY. The Louisville Office of Resilience and Community Services (RCS) has created a new tool for tracking its work. The new online data dashboard provides one-click access to a trove of information, including details about housing stability, utility assistance, volunteerism, financial empowerment, and the many programs and services administered by RCS.
The dashboard offers sets of numbers and statistics that can be broken down – or sliced – into different categories. For example, the dashboard for the Housing Referral List can be sliced by the age, race, gender, and veteran status of the applicants. And the dashboard for the popular Low Income Housing Energy Assistance Program (LIHEAP) can be sliced according to geographic location, date range, and which phase of LIHEAP clients have received. These tools will allow users to track the outcomes of various RCS services and programs over time.
"These numbers tell stories," said RCS Director Tameka Laird. "Stories of the many people, from all walks of life, who we serve every single day. Their experiences and their courage are reflected in the data we've collected and put on display for the public through this dashboard. Transparency is so important for every government agency but especially for RCS, which works with so many of our community's most vulnerable people. We believe this data highlights the many needs in our community and tracks our effectiveness in meeting those needs."
The data dashboard is a key part of the RCS 2022-23 Strategic Plan, which places a high priority on using improved data collection practices in order to "build a resilient community by … using the total value of our data to understand community needs, oversee program performance, and inform decision-making." The dashboard is a major step toward the overall strategic goal of creating a new, comprehensive data framework to support and inform agency goals and objectives.
The data dashboard was created by RCS Junior Data Analyst Erynn Moss, in conjunction with the Louisville Metro Data Governance Team, with the goal of fostering public transparency.
"It's the culmination of more than a year of work," said Moss. "It was our goal to integrate all of this data and put it into a format that is both pleasing to the eye and easy to access."
RCS invites the community to experiment with this dashboard, and use the available tools to learn more about the work that we do. Be sure to bookmark the page and check back on it quarterly, as we intend to keep it updated as new information becomes available.
The new RCS data dashboard can be viewed via the main RCS website – https://louisvilleky.gov/government/resilience-and-community-services – or at this direct link: https://data.louisvilleky.gov/pages/resilience-community-services.
* * *
Buy a Bonnycastle T-Shirt!
In an effort to support our neighborhood businesses, we have made licensing arrangements to allow Dirty Tease to print and sell clothing with our official BHA logo. (At this time, Dirty Tease is the only person that BHA has authorized and licensed to print or sell any item with our BHA logo.) You can buy unisex short-sleeved T-shirts through this link: https://www.dirtytease.net/t-shirts/bonnycastle — simply click on the design, and select color and size. Before checking out, be sure to select the option "Pickup" if you want to avoid shipping costs. Women's fitted T-shirts, children's sizes, hoodies, and additional clothing options are available in the store. You can even try them on first! Or bring your own solid T-shirt to be printed on. Dirty Tease is located at 1551 Bardstown Road, and is open Tuesday through Saturday, 11 a.m. through 6 p.m.
* * *
Welcome to the Bonnycastle Homestead Association
If you live in the Bonnycastle neighborhood, be sure to subscribe to our communications. If you don't already have a BHA account, you will need to create one, or simply email us and let us know that you wish to receive our communications. There is no charge to create an account. Only paid members will be able to take advantage of member-only features such as newsletter archive, online directory, and discounted trees.
We hope you will become a member. By paying your membership dues each year, you will support the BHA board volunteers who work hard to make this a great neighborhood. Annual membership dues are very inexpensive ($20 per family or $10 per individual or $25 for business).
The Bonnycastle Homestead area is a part of Louisville's Highlands, between Bardstown Road and Cherokee Park, and between Eastern Parkway and Speed Avenue. Built up during the late 1800s through the early 1900s, and experiencing some decline in the 1950's and 1960's, the neighborhood is now alive and prospering. Residents are happy with their tree- shaded streets, their graceful older homes, their closeness to the cultural offerings of downtown, and the friendly atmosphere. The neighborhood is vitalized by a diversity of ages and occupations. In recent years, this has become one of the most desirable neighborhoods in Louisville; property values are rising, and houses sell rapidly.
The Bonnycastle neighborhood boundaries are defined by Bardstown Road, Eastern Parkway, Cherokee Road, and Speed Avenue, as pictured in brown region of map below:
(image taken from https://www.ctbplan.com/ - Cherokee Triangle & Bonnycastle Neighborhoods Plan)